The first public event, acting as the EntrAL project Kick-off, was the seminar "Towards an Entrepreneurial Mind-set". Professor, Doctor Suzana Golemi, Rector at the University of Shkodra, Albania welcomed the participants; followed by greeting speeches from Mrs. Evis Kushi, Minister of Education and Ms. Ada Ramaj, National Coordinator, Albanian Erasmus + Office.
The main contribution was the presentation of the results of the need analysis by each Albanian partner institutions, the presentation of the national context regarding entrepreneurship education by Doctor Dorina Rapti, ASCAP, and the presentations of the good case practices of the European partners. These presentations will be available under the section Results of this website.
The seminar culminated with the presentations and the panel discussion of two Albanian entrepreneurs, Mr. Arben Haveri and Mr. Gjon Dukgilaj.
Due to COVID restrictions, European partners participated online.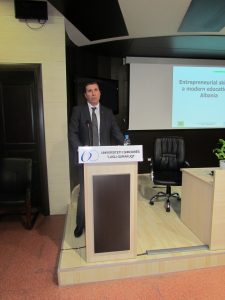 Mr. Arben Haveri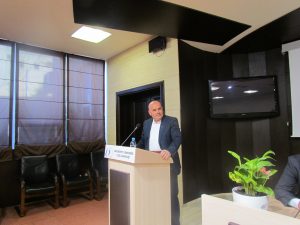 Mr. Gjon Dukgilaj

Participants of the seminar