Work package 4 – results 
Entrepreneurship Pilot modules to school teachers, university teachers, and university students (AL)
D.4.1. Pilot course to school teachers – two pilot courses developed for elementary and secondary teacher training. University Ismail Qemali developed and implemented these courses according to a strategy of implementation
Presentation of the implementation strategy in Vlora meeting
Finalizing the signature of MoU by Albanian partners
The Academic Senate approved our request to start the accreditation process
Designing the implementation strategy
UV team developed the documentation folder for the first phase of the application.
All the CVs of trainers from all Albanian partners have been collected and structured.
ASCAP accepted the first application of two teacher training modules
UV continued the development of the application by preparing the last annex according to the ASCAP guidelines
At the end of October, UV was applied by mail.
Promotional activities, meeting with the ZA office,
delivery of newsletter three about the content of teacher training modules to teachers
6 December -decision of accreditation  by ASCAP –  1 credit per each module
12 December – The UV team received the decision from the  archive
Opening the dates of two courses
the launch of the call for Teacher registration in the courses
Preparation, of course, materials in Albanian languages
Preparation of course agenda
Preparation of slides in the Albanian language
D.4.2. Pilot courses to university teachers  – 12-13 December 2022, at Gjirokastra University, Albania
12-13 December 2022   TOWARD AN ENTREPRENEURIAL MINDSET PILOTING THE ACADEMIC STAFF TRAINING MODULE
at ECUG, GJIROKASTER ALBANIA
32 academic staff of  teaching programs followed the course sessions
D.4.3. Pilot course to students – 13 -15 December 2022, at UAMD, Albania

Course title: Innovation Camp 
30 participated in the sessions of the course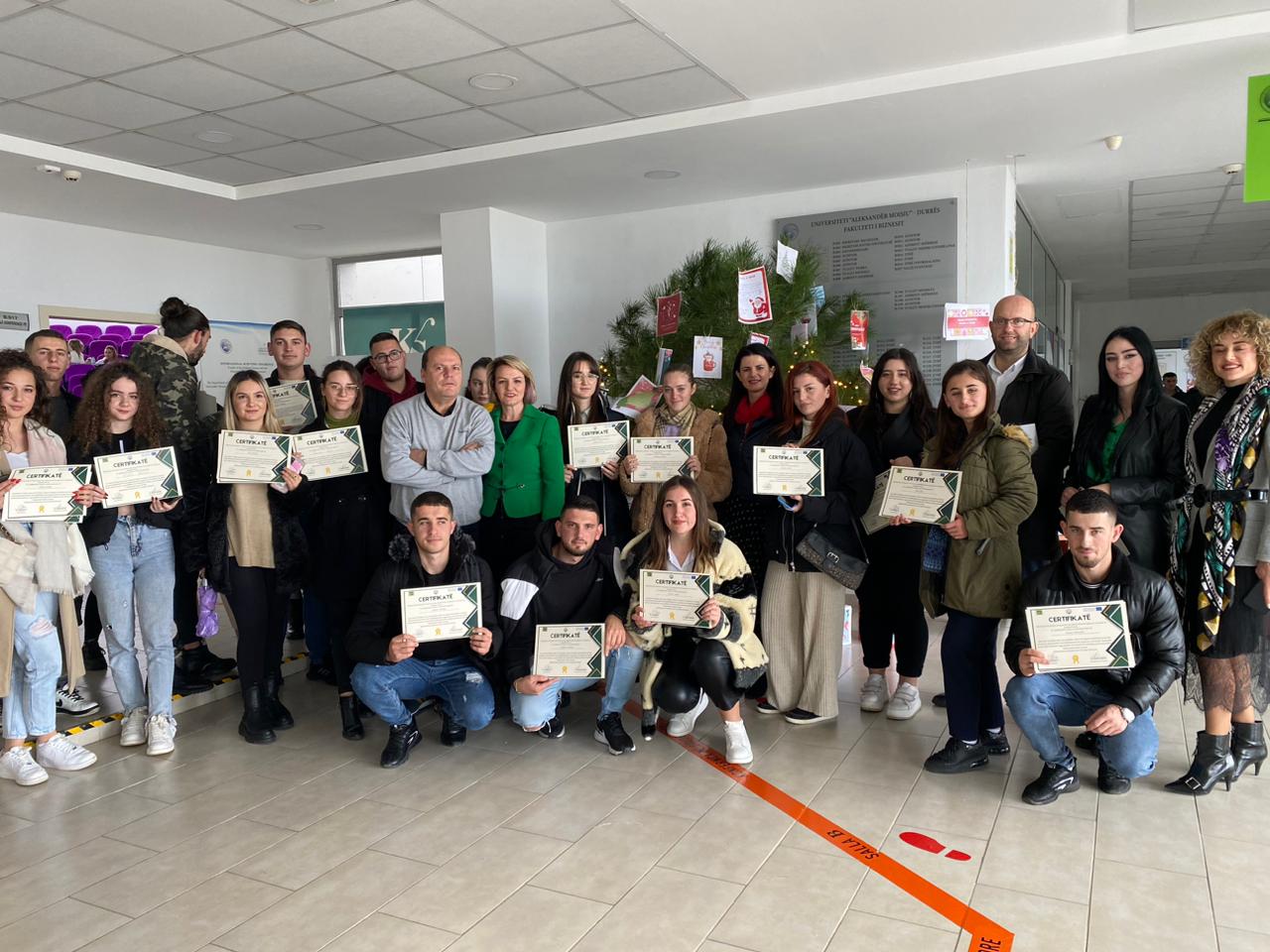 Workpackage 3 – results 
Deliverable 3. 1: Designing the entrepreneurship courses  –   Albanian partners have developed four training modules 
Two modules for pre-university teachers – Entrepreneurship in Primary Education and Entrepreneurship in Secondary Education – UV
Module for university students  training on Entrepreneurial skills education  – UAMD
Module for  university teachers training on Entrepreneurial skills education – ECUG
The work started in April by responsible Albanian partners, and the modules have been presented as drafts in Leon Meeting, Spain. After the review and evaluation with suggestions by European ULE experts, The modules were presented and approved at Vlore Meeting on 6 September 2022.  The modules are ready to be used for the pilot course implementation.  An accreditation process by ASCAP   is needed before the teacher pilot courses implementation. The UV team has started the work on the application documents for the first phase of the accreditation process. 
Deliverable 3.2: Integration of the entrepreneurship courses to the existing Centres in Albanian universities – 
The purchase of equipment was finalized successfully at the end of April 2022 with the delivery of equipment in each Albanian center of teacher training to support the implementation of pilot courses.  Ten laptops,  server, video camera,  audio devices, and flipcharts, have been installed  to support project activities of development and implementation
Deliverable 3. 3 Creation of the Albanian Entrepreneurial Network –   the Albanian entrepreneur Network foundation started in Leon, Spain during the project meeting there, based in the previous experience of TLLLC network in TEAVET project.  For this purpose, an agreement of Albanian partners has been designed and signed in 9 original copies by all partners. The University of Korce  will be responsible for the coordination of AEN and the University of Elbasan for the university trainers  network. 
Workpackage 2 – results 
Deliverable 2. 1:   2.1/2 Innovation Camp – Turku, Finland   – 46 University teachers trained 
Deliverable 2. 1:   2.3/4  Training workshop in Dublin  –  45 University teachers trained
Workpackage 1 – results 
Deliverable 1.1 – Need analysis on entrepreneurial activities for teachers and students
Deliverable 1.2 – Towards an entrepreneurial mind-set – seminar in Shkodra, Albania  
Presentations of study and analysis of needs by 8  Albanian Universities

Presentation of the analysis the needs for entrepreneurial education for lifelong learning teacher training and the possible policies  by  the Ministry of Education, Sports and Youth.

Presentation by The European Partners of the good case practices that could be relevant to the Albanian context
Deliverable 1.3 – Need Analysis on Entrepreneurial Activities for Teachers and Students